DEBRA GOSLING ART EXHIBITION
There's still time to catch the art exhibition of well known Bermondsey Author Debra Gosling at Deli Felice @ Albion, 40 Albion Street, London SE16 7JQ.
Debra's paintings are astonishingly vibrant and original. Many feature well known Bermondsey scenes, and all are bursting with life, imagination and colour! The 'My Bermondsey' page on this web site portrays a rather monotone, foggy and faded Bermondsey of another era, but there is another side to this area of London where my books are set, which Debra captures brilliantly. There are the  jewel-like colours of a sunset over Tower Bridge; the coral pinks of mature cherry trees planted by 'The Bermondsey Beautification Committee' so many years ago; the autumn tints of Southwark Park and much more. Below are just a few examples of Debra's work.
Don't forget to also check out Debra's fantastic books about Bermondsey's fascinating past!
The exhibition runs until 22nd January 2022. 
Posted 7th January 2022
---
PAPERBACK COPIES ARE HERE!
Nothing beats a pile of books with your name on them!
Very excited that the beautiful paperback edition of THE BERMONDSEY BOOKSHOP is here and eager to join the other 599 books publishing next Thursday 3rd September!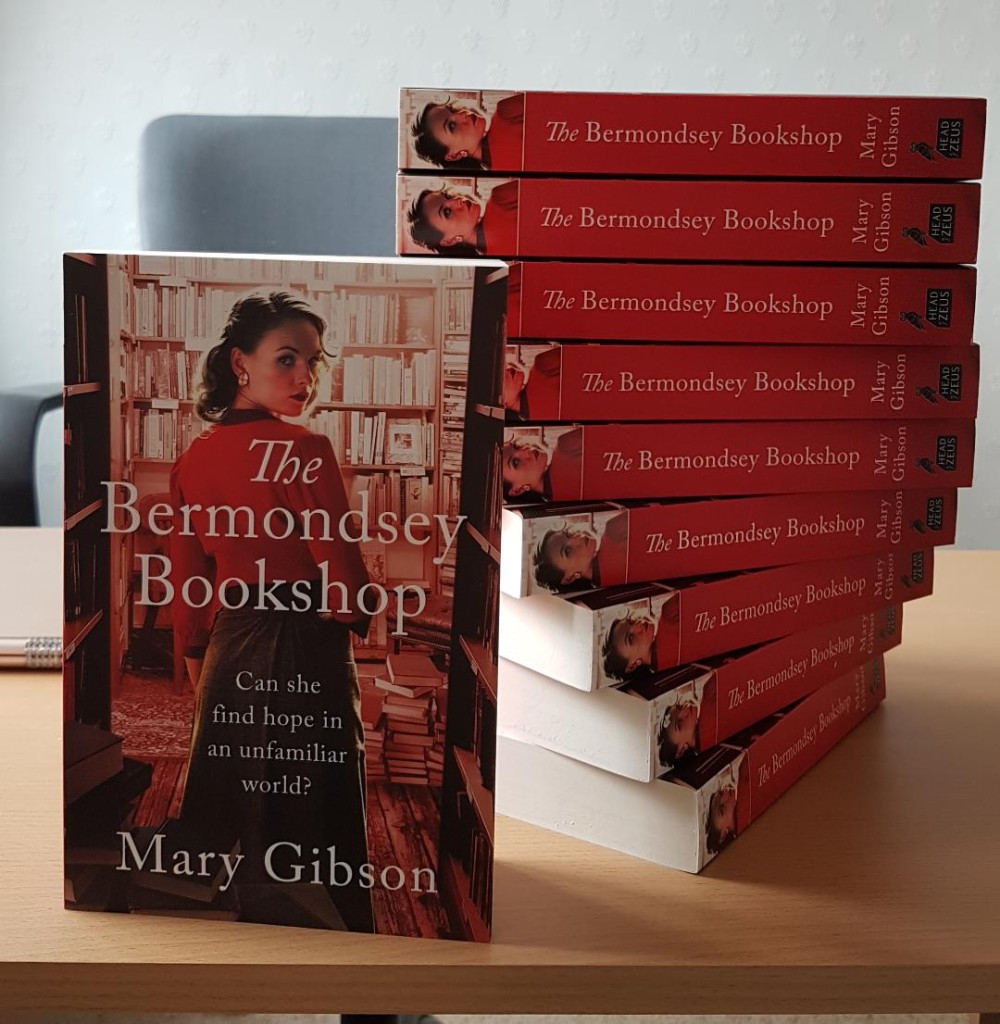 Posted 27th August 2020
---
A NEW 'BERMONDSEY BOOK' FOR A NEW GENERATION
Bermondsey community regeneration charity MADE IN BERMONDSEY has produced a fabulous educational booklet and activity kit for Bermondsey schools to use over the summer. It's been put together by Emma Snow of the charity COMMUNITY OPPORTUNITY and local artists Frog Morris, Sarah Sparkes and Jacqueline Gordon.  The book includes activities and artwork based around extracts from my books aimed at bringing to life the social and industrial history of Bermondsey. I'm very honoured that the booklet also launches the 'Mary Gibson Short Story Competition' with the prize winner receiving a signed copy of THE BERMONDSEY BOOK!
I can't think of a better use of my books than to pass on the history of Bermondsey to a new generation in such an imaginative and fun format. 
Copies can be obtained from MADE IN BERMONDSEY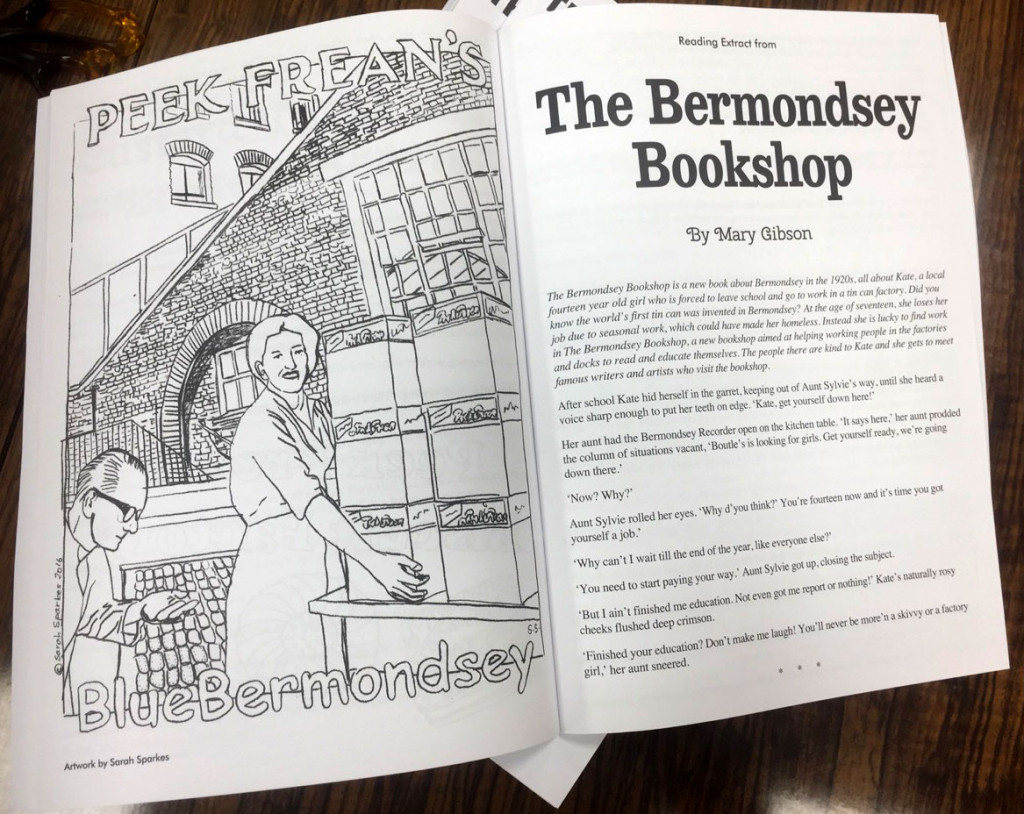 Posted 13th August 2020
---
WRITING MAGAZINE INSPIRATION MONTH
I was delighted to be asked to contribute a video for WRITING MAGAZINE'S 'Inspiration Month'.
You can view the video here, where I talk about the inspiration behind THE BERMONDSEY BOOKSHOP and give my take on the difference between story ideas and inspiration.
Posted 13th August 2020
---
BBC RADIO LONDON INTERVIEW 
I had a fantastic time chatting to Jo Good at Radio London about the true story behind THE BERMONDSEY BOOKSHOP. You can listen to it here, at about 1.57 minutes in.
https://www.bbc.co.uk/sounds/play/p082bjq1
Posted 17th March 2020
---
THE BERMONDSEY BOOKSHOP BLOG TOUR STARTS 6TH FEBRUARY!
---
NEW DOCUMENTARY ABOUT BERMONDSEY POST-WAR WOMEN FACTORY WORKERS
I was delighted to be able to contribute to END OF AN ERA, a beautifully made film by Debra Watson. This fascinating new documentary about the lives of women factory workers in post-war Bermondsey and Rotherhithe allows the women to tell their own stories so that their characters shine through. If you want to hear some of the true-life stories and social history behind my books you can view the documentary on Youtube here or on the following website. https://southwarkvoices.wordpress.com/film-3/
It's well worth a watch!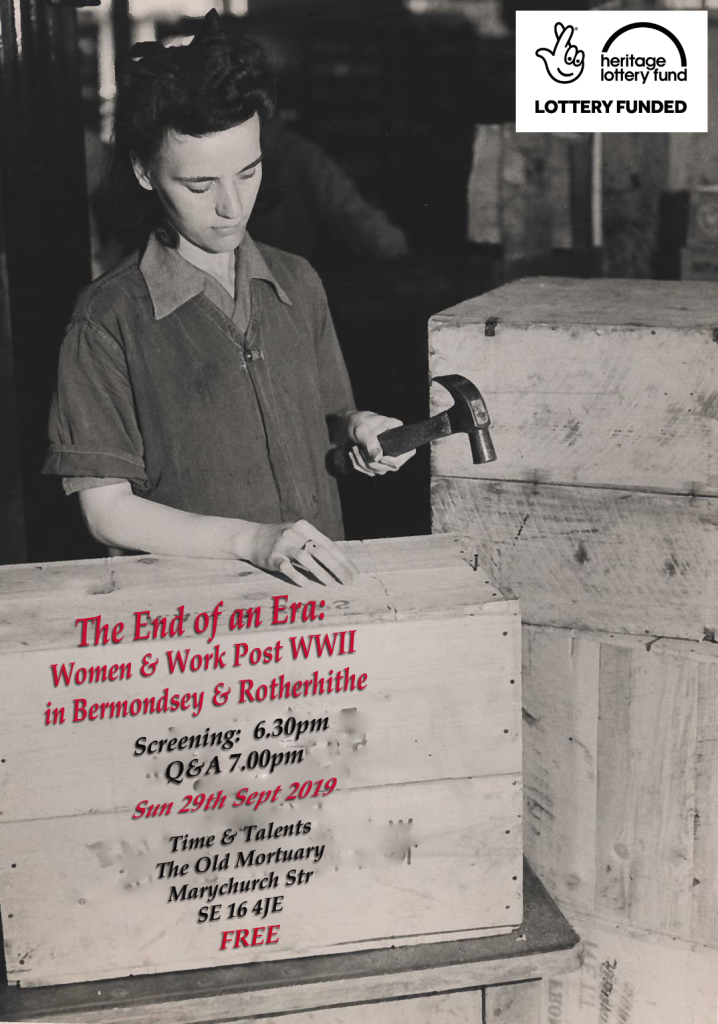 Posted 7th October 2019
---
PRAISE FOR A SISTER'S STRUGGLE
'Affecting, poignant and intensely emotional ... A stirring and captivating read guaranteed to tug at your heartstrings that is absolutely perfect for fans of Call the Midwife' Julie, Bookish Jottings.
'Beautifully written book. I feel so honoured to have witnessed this raw and heartfelt story and I am hoping this review will give the book the justice it deserves ... An emotional and heartfelt journey [...] told with pure honesty and heart' Stacey is Reading.
'A brilliant saga filled with intrigue and questions … Full of friendship family and choices, it's a book I can highly recommend to all saga fans. But do remember to set aside a day to read, because once you start, you won't want to put the book down' Lauren, Mixing Reality with Fiction.
These are just a few of the lovely reviews coming in for A SISTER'S STRUGGLE. If you want to judge for yourself the paperback is due out 2nd May 2019!
Posted 8th April 2019
---
ATTENDING THE LAUNCH OF A NEW EDITION OF REVENGE: Blood Runs Deep!
I was delighted recently to attend the launch of a new small format edition of REVENGE: Blood Runs Deep, with its stunning new cover. It's a novel full of suspense, deceit, love, betrayal and of course - revenge!
My fellow members of Bexley Scribblers, co-authors, Elizabeth Mitchell and Linda Mitchell, were on hand to sign copies in the Angelica Café at Morely's Bexleyheath.
Copies can be obtained via the authors' website: https://www.mitchellauthors.com/
E book is available from Amazon
Posted 8th April 2019
---
WOMEN AND SOUTHWARK PARK
I was delighted and honoured to be one of the 150 women included in this commemorative publication! Written by Bermondsey historian Pat Kingwell, and designed by local author Debra Gosling, it is a fascinating and beautifully illustrated account of the part women have played in Southwark Park's history. 
It can be obtained by donation to the Southwark Park Association 1869 from: Kingwell Publications, 3, Fairoak Drive, London SE92QG. 
Posted 8th April 2019
---
A LOVELY TURN OUT FOR THE FIRST EVENT IN THE SOUTHWARK PARK 150TH ANNIVERSARY CELEBRATIONS!
It's always lovely to have an excuse to go back to Bermondsey and I had a wonderful time talking to a very well informed and welcoming crowd about A SISTER'S STRUGGLE and my other Bermondsey books as part of the Southwark Park 150th anniversary celebrations. Many thanks to Loving Southwark Park @OldFriendsSPark for hosting the event, for the lovely flowers and the delicious honey from Southwark Park Bees!
---
SOUTHWARK PARK 150TH ANNIVERSARY CELEBRATION. FREE EVENT!
I'm very much looking forward to taking part in the Southwark Park 15oth anniversary celebrations. Tonight I'll be talking about how Southwark Park features in  my novels. If you're in the area please come along. It's free!
Venue Details: 6th March 6.30 St. Peter's Hall, 72, Paradise Street, SE16 4QD.
Posted 6th March 2019
---
MARCH WRITING MAGAZINE OUT NOW!
You can now read the interview with Tina Jackson in Writing Magazine. The March issue is available in newsagents and here on the magazine website.
And if you'd like to read some of my top writing tips you can find them here.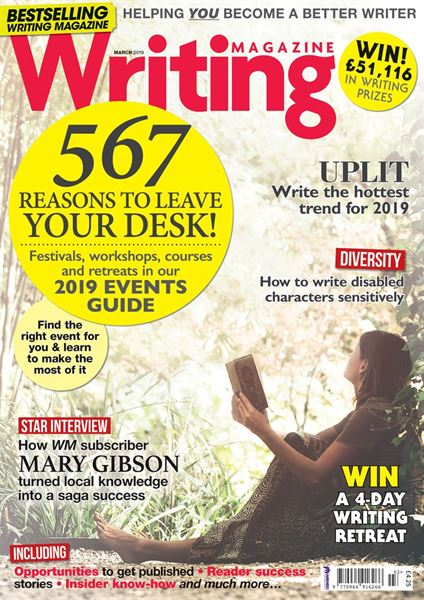 Posted 31st January 2019
---
IN THE PRESS
I'm very honoured to be featured in the star interview spot of the March issue of WRITING MAGAZINE!
If you want to read about my journey to publication and the latest novel A SISTER'S STRUGGLE, copies are available from 7th February in newsagents or here: www.writers-online.co.uk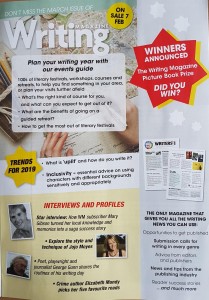 ---
A SISTER'S STRUGGLE BLOG TOUR
Running every day from 1st - 11th December, some brilliant book bloggers are hosting the blog tour for my latest novel. Here's the full schedule if you want to see what they are saying about Ruby Scully and her struggles in Bermondsey during the hungry thirties. 
1st December Stacy is Reading Review from Stacy
2nd December A guest post from me at  Short Book and Scribes
3rd December Mixing Reality With Fiction
4th December Bookish Jottings
5th December Cara's Book Boudoir
6th December Rachel Bustin
7th December Cheekypee Reads and Reviews
8th December Katherine's Book Universe
9th December Nemesis Blogs
10th December A guest post from me. Boon's Bookcase
11th December Between My Lines
---
IN THE PRESS
A lovely feature in the July Southwark News about my latest novel HATTIE'S HOME. It was great to see the photo of my Mum and her old work mates taken in 1988 for an article in that very newspaper on the closing of the Alaska factory - which is the backdrop for the novel. You can read the article here.
Also, a feature in Writing Magazine, in which I share my top piece of writing advice!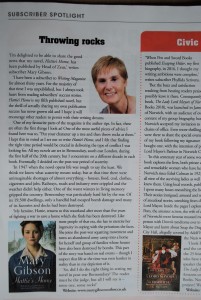 Posted 27th July 2018
---
ADA SALTER DOCUMENTARY
Last week I paid another visit to the brilliant Bermondsey Uprising  pop-up shop in The Blue, Bermondsey. This time to be interviewed for a docudrama film on the work and times of Ada Salter. Bermondsey Uprising generously agreed to host the filming. 
The film will focus on many of the aspects of Ada Salter's work in Bermondsey which feature in my novels: her work with the factory women strikers of  1911; with conscientious objectors in WWI; and with the beautification of Bermondsey amongst others. 
The time is certainly ripe for the inspirational Ada Salter to have her profile raised and to be recognized for the truly pioneering work she did in Bermondsey, and the country as a whole, in the early twentieth century. I am looking forward to seeing the trailer!
I rounded off my visit by picking up this very special Ada Salter T Shirt and was given a surprise gift from bookseller Tom of a beautiful 1950's edition of Round London With The Unicorn. 
Thanks to all, I had a great visit!
---
NEW COVERS DESIGNS FOR MY BOOKS!
My publisher, Head of Zeus, have produced some beautiful new cover designs for my books. I am very excited to be able to show off the first three here!
Posted 11th March 2018
---
VISIT TO BERMONDSEY UPRISING POP UP SHOP IN 'THE BLUE'
I had a great time on Friday meeting Emma and her team at the wonderfully named 'Bermondsey Uprising' pop up shop in The Blue, Bermondsey.  This is a great community initiative aimed at breathing some new life into the market. I was happy to visit and take with me some signed hardback copies of my books, including the latest 'Hattie's Home'.
Here I am with Ada Salter, my great heroine, who has walk on parts in many of my books! I also met Sarah Thurman of United St. Saviours who are providing the all important initial funding. 
Posted 25th February 2018
---
VISITING BERMONDSEY UPRISING
FRIDAY 23rd FEBRUARY 
I am very much looking forward to visiting the Bermondsey Uprising pop up shop in The Blue, 210 Southwark Park Road, Bermondsey on Friday 23rd February at 11.30. www.communityopportunity.org.
I will be bringing along some signed copies of my books and hope to see some of my lovely Bermondsey readers there! 
Posted 22nd February 2018
---
ROSIE GOODWIN AT BEXLEY LIBRARY
A wonderful afternoon at Bexley Central Library where I got to meet the lovely Rosie Goodwin who gave us some fascinating insights into her amazing writing career. She has just published her thirtieth novel and has another two written and ready to go!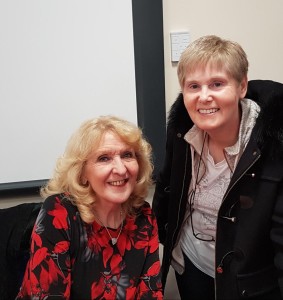 Posted 13th February 2018
---
HATTIE'S HOME BLOG TOUR!
SATURDAY 20th JANUARY
I'm very excited to announce the Blog Tour for HATTIE'S HOME beginning on  Saturday, 20th January. There will be reviews, excerpts, giveaway, Q&As plus a guest post from me! Below is the full schedule.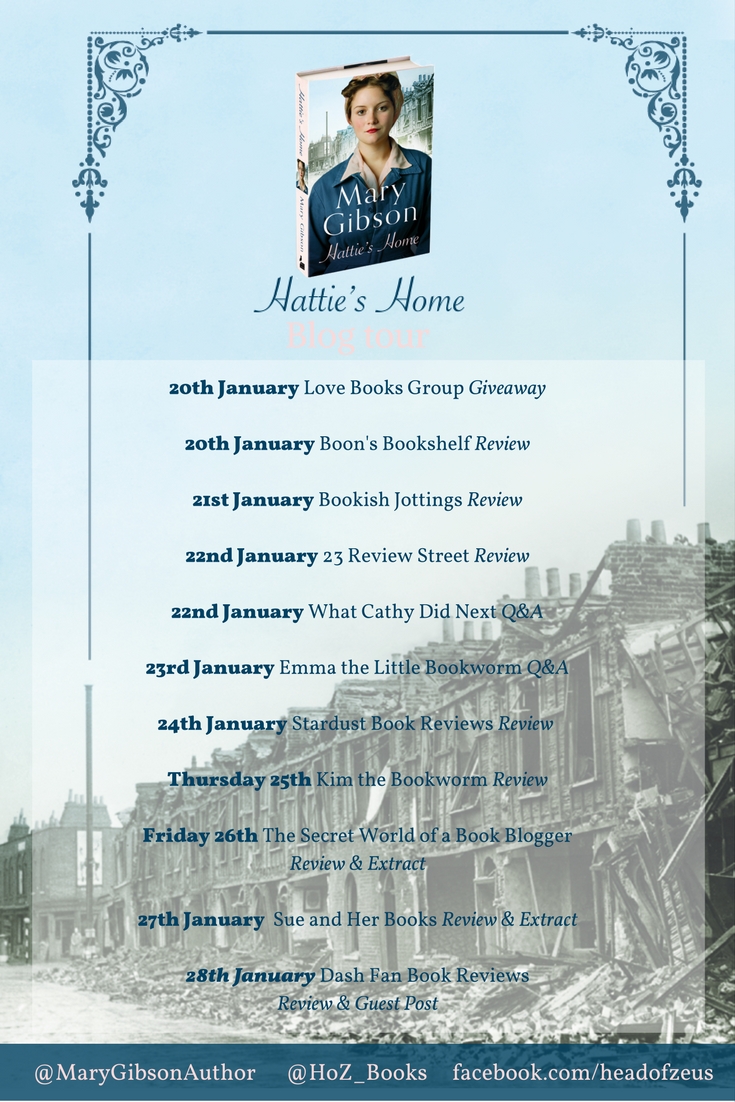 ---
HATTIE'S HOME HARDBACK PUBLISHES 11th JANUARY 2018
Here's a sneak preview of the gorgeous hardback edition of HATTIE'S HOME. My publisher Head of Zeus has done a wonderful production job, I think it looks beautiful  - with its head and tail bands, ribbon marker and a stunning new style jacket. I couldn't be happier. A wonderful start to the New Year!
Posted 2nd January 2018
---
ADA SALTER BERMONDSEY WALK
Some photos of the wonderful new walk from Capital Walks, guided by Sue McCarthy which I joined yesterday. The walk highlights the work of Ada Salter and her beautification committee, which turned some of Bermondsey's sootiest slums into green oases during the 1920's and 30's. Ada Salter features in my novel Jam & Roses and for anyone interested in Ada, or in seeing some of the locations in my novels, this walk is a fascinating introduction.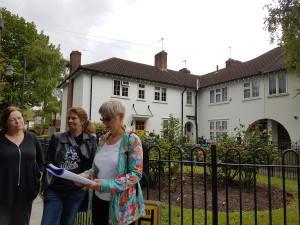 Wilson Grove, the garden city the Salters created in Bermondsey. Still planted with Roses!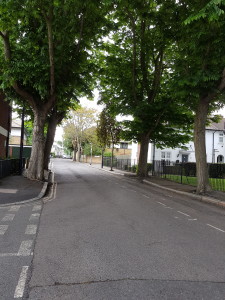 The saplings planted by the Beautification Committee, a hundred years on now a leafy avenue.
I meet my heroine! A statue of Ada Salter which stands by the river not far from the Bermondsey Settlement where she first worked in Bermondsey.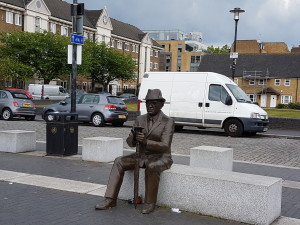 Dr Salter's Day Dream. (The original was stolen for its metal value and has been replaced after a local fund raising campaign.)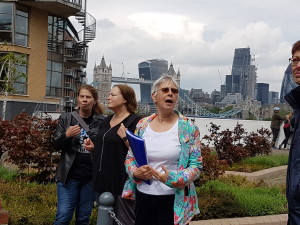 Standing on one of the 'patches of asphalt' purchased by Ada with a view to planting them with flowers or turning them into playgrounds. Now prime riverside plots!
Posted 14th May 2017
---
BOURBON CREAMS NEW COVER
Here is a preview of the beautiful new cover artwork for the paperback edition, due out 4th May 2017.
---
MARY GIBSON BLOG TOUR
BOURBON CREAMS AND TATTERED DREAMS
29th January - 7th February 2017
I am very excited to be taking part in a blog tour next week. I will be answering questions, guest posting and giving away copies of Bourbon Creams and Tattered Dreams. Here is the schedule so far:
29th January
Chicklit uncovered - Extract from Bourbon Creams and Tattered Dreams
30th Jan
Parmenion books. Mary Gibson guest post
31st Jan
23 Review Street - Review and extract
1st Feb
Rachel Bustin - Giveaway of 2 copies of Bourbon Creams and Tattered Dreams, plus a review.
 2nd Feb
A Sky Filled with Sparkling Stars. Review.
 3rd Feb
The Bookbag - Giveaway of 3 copies of Bourbon Creams and Tattered Dreams
 4th Feb
With Love for Books - Review
Suze (Anniek and Suze) - Review.
 5th Feb
Debra's Book Cafe - Q&A with Mary Gibson
 6th Feb
Chicklit Club Connect - Guest post by Mary Gibson
 7th Feb
My Merri Way - event TBC
Posted 27th January 2017
---
Endeavour Press Virtual Historical Festival 18th-22nd April 2016
I am excited to be taking part in the Endeavour Press Virtual Historical Festival next week. There will be live Q&A's from over thirty authors and Endeavour Press will be running competitions and giving away FREE BOOKS!
I will be answering readers questions live on Good Reads www.goodreads.com, from 10.00am on Monday 18th April.
Meanwhile you can read more about my inspiration for GUNNER GIRLS AND FIGHTER BOYS on the Historical Festival Blog page www.historicalfestival.wordpress.com
Posted 8th April 2016
---
World Book Night visit to Lancashire Libraries
As part of the World Book Night celebrations I visited Blackburn and Accrington libraries to speak about my novels and was given a very warm Lancashire welcome. As someone who owes such a lot to my own childhood library, it was a privilege to speak in two such wonderful institutions. The audiences were full of intelligent questions and Accrington's edible display for Custard Tarts and Broken Hearts was a delicious bonus! 
Posted 27th April 2015
---
Copies of the World Book Night edition of Custard Tarts and Broken Hearts arrive at John Harvard Library
Posted 27th April 2015
---
Blackburn and Accrington Libraries Events for World Book Night
---
Custard Tarts and Broken Hearts selected for
World Book Night - 23rd April 2015
I am thrilled that 'Custard Tarts and Broken Hearts' has been selected as one of the 20 titles to be given away on World Book Night 2015.  World Book Night is a marvellous initiative which I'm very proud to be part of.  An annual celebration of reading and books, it sees passionate volunteers give out hundreds of thousands of books in their communities to share their love of reading with people who don't read regularly or own books. World Book Night is run by The Reading Agency, a national charity that inspires people to become confident and enthusiastic readers to help give them an equal chance in life.
Click here to view other book selected for this event.
For more information visit www.worldbooknight.org